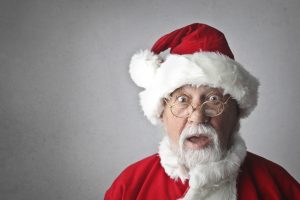 It has been said that "comparison destroys contentment." If that is true, then the holidays provide the opportunity for contentment-destruction on a massive scale.  My family and I saw the fantastic production of The Christmas Story at the Garden Theater in downtown Winter Garden last week. Countless times the main character, little Ralphie, cried out "I want an official Red Ryder Carbine-Action Two-Hundred-Shot Range Model Air Rifle!" He was a walking advertisement for the object of his greatest Christmas desire.
Like Ralphie, We are bombarded with messages that demand we get the latest and greatest, upgrade to the next model, don't miss out on this or that opportunity, and make sure we provide out kids with the same or better gifts as their friends. Researchers tell us it is projected that approximately $120 billion will be spent on online retail this holiday season. Indeed, Cyber Monday alone saw $2 billion in sales – in a single day!
Many times we enter into the holiday season with the best of intentions. We tell ourselves we will not do what we did last year and go overboard with gifts and commitments. However, as the days between Thanksgiving and Christmas tick by, we begin to give into that not-so subtle pressure to compare. This leads to feelings of guilt and we soon find ourselves in the same maddening rush of buying. Below are some good ideas to help you find some sanity in this season.
Set Good Boundaries
Let this be the season where you make an intentional effort to avoid the descent into holiday-madness. Pick someone you can both hold accountable to making the season more about the Spirituality, relationships, and joy it is supposed to be about. Set a limit on the amount of money you spend on gifts and stick to it. Intentionally "under-decorate" your home. Make a smaller than normal menu for holiday meals. Emphasize simplicity. Try to gauge your plans buy answering the following question: "will I feel relaxed after doing this or completely exhausted?" Remember, "no" is not a dirty word.
Avoid Social Media
Social media can be a fantastic tool to keep in touch with family and friends. However, over the holidays it can be a source of tremendous anxiety. While it is true that "keeping up with the Joneses" is an American pastime, social media during the holidays tempts us to try to "BE the Joneses." Make a commitment to spend half as much time on social media in December as you typically do during the rest of the year. Seriously, you can do it; it won't hurt!
Emphasize Quality Time over Activities
Make a concerted effort to spend more time with family and friends. This may seem like something you are already doing. However, the quality of time we spend together is the important factor. Make sure your time with family and friends isn't consumed with activity, endless cooking and cleaning, stressful traveling, etc. Try to make your time special through meaningful connection.
Serve Others
Make some time to serve others. Few things are better to help jolt us back into reality than serving the less fortunate during the holidays. There are countless opportunities at local food banks, homeless shelters, churches and local civic outreaches to give a little of yourself. The return on this investment is guaranteed to be far higher than the fleeting emotions of gift giving and getting.
Take Some Personal Time
It is also important to take personal time during the holidays. We often forget this as we are so busy attending and planning events and buying gifts for others. Take some time to go to a place of worship to reflect on the real Reason for the season. Talk a long walk and meditate on gratitude. Spend a few moments reflecting over each the blessings you experienced during the past year. Make time to exercise. Read that great book you have been putting off, and give yourself permission to finish it before New Years Day!
Have Fun!
Give yourself permission to "lighten up" this holiday season! Play some silly, fun games with your family. Yes, dust off those board games hiding in the top of your hall closet. Go and do some fun activities you don't typically do over the holidays: see a double feature, go bowling, play laser tag, go to a pottery studio. Get some good laughs from Holiday karaoke.
Of course, there are countless other ideas that can help you avoid the dangers of contentment-destroying-comparison during the holidays. Just let yourself think outside the box and be willing to NOT be controlled buy guilt, shoulds or oughts. Feel free to leave you ideas in the comment session below.  Have a fantastic season and remember, as Buddy the Elf says, "The best way to spread Christmas cheer is singing loud for all to hear!